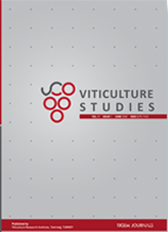 About Journal
Aim
The Viticulture Studies is the scientific publication of the Tekirdag Viticulture Research Institute. Journal appears biannual and is an international, refereed and open access journal, VIS aims to increase the sharing and dissemination of information at international level.
Scope
Viticulture Studies publishes original scientific papers and critical reviews concerning grapevine physiology and biology, molecular biology, breeding, genetic resources, disease and pests management, economics of viticulture, grape products processing and post harvest physiology, vineyard mechanization, vineyard soil-water management and nutrition, oenology and related fields.
Original research articles and reviews, submitted to the journal must be in English and must not have been previously published. The full texts of research articles presented at scientific meetings like congress, symposium, etc. which only abstracts published, can also be published in journal. Viticulture Studies is published digitally.
All responsibilities regarding scientific content and results and compliance of the studies with international scientific and publication ethics belong to authors. In the same issue of the journal, maximum two articles of an author are included. Authors are not paid royalties, and articles are not charged.