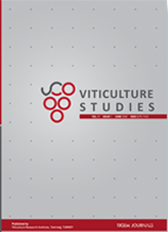 Publication Ethics
Viticulture Studies Ethical Principles
VIS is a peer-reviewed journal aiming to provide universal publication ethics norms. Journal expects from editors, authors, reviewers, publishers and readers to accept the same behavior norms.
General duties and responsibilities of editors
Editors are responsible for all material published in the Viticulture Studies. So editors bear responsibility;
To meet the needs of readers and authors,
To improve the Viticulture Studies consistently,
To provide the necessary processes to improve the quality of the published articles,
To respect and support the freedom of expression strictly,
To ensure and maintain academic integrity of articles,
To prevent compromising from intellectual and ethical standards due to professional relations,
Not to avoid from the requirements such as correction, explanation, withdrawal and publishing an apology when it is necessary.
Editors should consistently improve their review and decision quality and performance by observing the publishing processes and timings within the frame of the principles of independency, objectivity and confidentiality.
Ethical principles for editors
All submitted manuscripts are evaluated according to intellectual content regardless of the differences of the authors such as gender, race, religion, ethnicity, nationality and political views.
Editorial decisions are made depending on the quality of the studies and the reviewer evaluation regardless of political, religious, financial or personal effects.
Editors are reponsibile for guiding authors and reviewers for necessary all information.
Editors are responsible for conducting an appropriate peer review process for journal policy and fields of study.
Editors can submit their work to the journal, but in this case they should not take advantage of their positions and the process should be carried out according to journal policies.
Personal information about the studies will be kept confidential.
All conflicts of interest and plagiarism identified by editorial board members and determined in published articles must be disclosed.
The editorial board is responsible for evaluating the submitted manuscripts and making decision of publishing in accordance with journal policies and copyright infringement rules.
A double blind peer reviewed system is used at least with two reviewer to evaluate the articles submitted
Editors have the right to reject articles out of scope of the journal, having no technical value, narrow-scoped, presenting contradictory results, poorly written in terms of intellectual, technical or language, containing scientific misconduct and also due to the large number of applications without peer reviews.
Editors are responsible for the final decision on the acceptance or rejection of manuscripts.
In case of conflict, members of the advisory / science board are sought.
Relations of editors with authors
Decision for accepting or rejecting an manuscript by editor should be based on the importance, originality and clarity of the article, the validity of the study, and its relevance to the scope and objectives of the journal.
Editors should not give up previous editor decision to accept applications unless serious problems are determined about the articles.
New editors should not disrupt their decision to publish articles by the previous editor, unless they have identified serious problems.
Editors should state the reviewer evaluation processes clearly and be prepared to make changes to the announced processes.
Journals should have a declared and functional mechanism for authors to objecting to editorial decisions.
Editors should guide the authors about everything expected from them by the authors. This guidance process should be updated regularly in accordance with COPE recommendations.
Editors should guide about the criteria of authorship and help the contributors of the study to be sorted by the standards in the relevant field.
Relations of editors with reviewers
Editors should give clear recommendations to the reviewers and these should be updated regularly.
Editors should ask reviewers to disclose any potential conflicting interests before accepting to review an application.
Editors should encourage reviewers to comment on possible scientific abuse and / or ethical issues in submissions.
Editors should encourage reviewers to be sensitive about ensuring / enhancing their originality, reducing unnecessary publications, and plagiarism.
Editors should assist the reviewers by providing tools to detect related publications (e.g. links to cited references and bibliographic searches)
Editors should be open to reviewers' contribution to the journal and encourage them in this regard.
Editors should encourage academic institutions to recognise peer-review activities as part of the scholarly process.
Editors should monitor the reviewers' performances and try to improve their performance.
Editors should create a pool of eligible reviewers and update this consistently based on performance.
Editors should remove from the journal's database any reviewers who consistently produce discourteous, poor quality or late reviews.
Editors should ensure that the reviewer database reflects the academic community for their journal (e.g. by auditing the database in terms of reviewer age, gender, location, etc.).
COPE recommendations and flow charts should be followed in case of disputes between editors and reviewers.
Relations of editors with advisory/science board members
Editors should try to win qualified advisory/science who can actively contribute to the development and good management of the journal.
Advisory/science board members are appointed for a fixed term of three years. If the parties are willing to work together at the end of this period, it may be extended.
Editors should inform and advise new advisory/science board members about the activities expected from them. It should be ensured that current advisory/science board members are constantly informed about journal policies and developments.
Advisory/science board members are expected to support the journal and engage in promotional activities.
Advisory/scientific board members are expected to seek out the best authors and best work and actively encourage their submissions
Advisory/science board members can also take place in the reviewer pool.
Editors should consult advisory/science board members at least once a year to gauge their opinions about the running of the journal and inform them of any changes to journal policies and identify future challenges.
Relations with readers
Readers should be enlightened about who finances research and other academic studies, and if funders have any role in research and publication, and if so what is this role.
Editors should pay attention that the published articles are understandable for all beneficiaries and original and they contribute to scientific knowledge.
Editors should consider feedbacks from all readers and practitioners and make clear explanations.
Editors should ensure that all published articles are reviewed by reviewers with suitable quality.
Editors should prepare suitable guides and checklists for the writing of the articles and ensure of following currency from sources CONSORT etc.
Editors are responsible for informing readers about the steps taken to ensure that submissions from journal staff or institutions receive an objective and impartial assessment.
Responsibilities of reviewers
Our reviewers are expected to accept only articles related to their specialty.
As the Viticulture Studies uses a double-blind evaluation system, reviewers are expected not to access the author's credentials or to contact the authors.
Evaluation should be done within the frame of impartiality and confidentiality principles, nationality, gender, sacred and political beliefs and commercial concerns should not be allowed to affect the evaluation, and the review of the article should be refused by specifying the reason in case of possible conflicts of interest.
Evaluation should be done in a constructive manner and in an appropriate language aiming to contribute and win the author.
Reviewers should carefully evaluate whether the submitted article complies with journal-specific instructions.
The methodology, statistical analysis, discussion and results of the study and references should be carefully reviewed.
Ethical principles for reviewers
Reviewers should terat the manuscripts as a confidential document. This means that they can not be shared without prior authorization from the editor and authors and used in different studies.
Reviewers should make impartial assessments, including clear and well based comments and presented on time.
If reviewer suspects plagiarism and other ethical problems, the editor should be informed with detailed information.
Reviewers should avoid ad hominem comments.
Reviewers should not refer to his or his colleagues' publications unless there are real scientific reasons.
Responsibilities of authors
Before the author / authors decide to submit their manuscripts to our journal, they should carefully examine the titles of conflicts of interest, transfer of copyright, Plagiarism policies, Evaluation processes and Writing rules and adopt to comply with the specified norms.
The articles submitted by the author / authors are expected to be original works. When author(s) use other people's work (method, text, table, visual, etc.), they must be cited completely and accurately.
People who do not intellectually contribute to the planning of the study, field studies, writing and content should not be specified as a writer in the creation of the article.
Our journal may request the raw data of their articles within the frame of the evaluation processes from the author/authors, in such a case, the author(s) should be ready to present the requested data and information to the editorial board.
The author(s) should share missing and mistaken elements with the editors when they noticed in their work, even if article was accepted for peer assessment, early appearance or published.
Ethical principles for authors
The author(s) should not send their works published elsewhere or under evaluation to our journal. In case such a situation is detected, our journal reserves the right to sanction.
The author(s) should refer to other works in full and correct. Author guidelines and journal template guidelines should be taken into consideration for citation and bibliography.
The materials (method, text, table, image etc.) ussed by author / authors should not violate any existing copyrights or other rights.
In the case of plagiarism detected in a sent, accepted or published article, all responsibility belongs to authors. Our journal has the right to refuse and / or withdraw the article in case of plagiarism. The authors can't object to the journal's decision. In case such a situation is detected, our journal reserves the right to sanction.
The articles published in our journal are not allowed to be used again without permission. In case such a situation is detected, our journal reserves the right to sanction.
The author(s) are expected to carefully sort the authors before submitting their articles and give the final list of authors at the time of application. Adding, deleting or rearranging of the author names in author names list should only be done before the article is accepted and only when approved by the journal editor. In such a case, written approval must be handed in to the editor about the reason for the change and their agreement to add, remove or reorganize.
Submitting a manuscript to our journal means that all ethical principles and responsibilities are accepted by all authors.
Viticulture Studies Open Access Policy
The Viticulture Studies performs Open Access Policy and accepts the definition of the Budapest Open Access Initiative (BOAI), considering that knowledge is an increasing power as it is shared.
Viticulture Studies Complaints Policy
Complaints and erratum requests about an article published in the Viticulture Studies and / or the materials in the article should be submitted to the editorial board via the official e-mail address of the journal within 12 months from the date of publication. In cases of complaints and all disputes, our journal follows COPE recommendations and flow charts.
Viticulture Studies Sponsorship and Advertising Policy
Viticulture Studies does not accept sponsorship and advertising.
Viticulture Studies Article Processing, Publication and Subscription Fee
The Viticulture Studies does not charge any article processing (submission and / or evaluation) and subscription fees.
Viticulture Studies Data Privacy
All personal information like names, publications, e-mail addresses etc. sent to journal website will only be used for the stated purposes of journal. VIS states it will not be made available for any other purpose.